Rose Quartz Viking Runes 25 Stones and Bag NEW Instructions Divination Intuition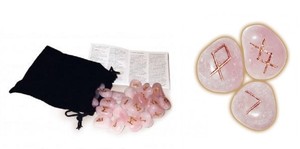 ---
Get it today at the Soaring Eagle New Age Shop
Buy more than 1 item and take advantage of the shipping discount offer
Rose Quartz 
Runes & Bag Set
Condition:  Brand New factory sealed set
Gemstone:  Rose Quartz
Photo Note: Stock - Rose quartz set shown is an example of the set - actual
set never removed from the factory package
Publisher:  Lo Scarabeo
US Distributor:  Llewellyn Worldwide
ISBN:  978-0-7387-2957-2
Stone Runes: 25 tumbled, polished, carved
Stone dimensions varies:  ¾" - 1-1/4"
Bag:  Storage pouch may vary
Dimensions:  4-1/4" x 4-1/4"
Instructions:  Included
Runes are a wonderful self-help tool.  This handy set can be easily carried in a purse or brief case for instant consulting any time of day.
Metaphysical Properties of Rose Quartz:  Often called the "love stone," rose quartz is said to open the heart chakra to all forms of love: self-love, family love, platonic love and romantic love. Emotionally, the gemstone is believed to bring gentleness, forgiveness, compassion, kindness and tolerance, raise the self-esteem and remove fears, resentments and anger.
Some also say it can heal and release childhood traumas, neglect and lack of love, in part by enhancing inner awareness. 
It is attributed the power to help with reconciliation with family and ease overwhelming or unreasonable guilt.  The definitive stone used during love rituals.  This stone can be used to open to heart chakra.  It is extremely love attracting.  It also promotes peace, happiness, and fidelity in established relationships.
All merchandise is brand new from the manufacturer/distributor
 Photographs taken at a work station on clean background material
All inventory is stored in a clean, temperature controlled, cigarette/cigar smoke free environment
LIKE C US on Facebook
facebook.com/Soaring-Eagle-New-Age-Shop
&
Follow me on Twitter - Veronica Zenner @ Soaring_Eagle1
Posts on a variety of metaphysical topics
Combine Shipping Offer - US addresses only 
BUY More than 1 Item
Pay the higher S&H and the remaining items will be shipped together to the same address at no additional charge via USPS Media Mail or Parcel Post.
Note:  Books are shipped via Media Mail and cannot be shipped with other items.
* The e-Bay system cannot be set to automatically apply my domestic shipping discount to orders with multiple items. 
 *  I must manually send you an invoice in order for you to benefit from the shipping offer.
  *  If you pay for items separately – most shipping over payments will be refunded if you choose to check out immediately.   
* International orders need to be manually invoiced to insure the correct shipping charges are applied.  Refunds for over payments will be issued at the time of shipping.
INTERNATIONAL BUYERS ARE RESPONSIBLE FOR PAYING ALL CUSTOMS DUTIES / CHARGES / FEES / TAXES
Note:  The publisher can change/update book cover or storage box designs without notice.  If you need the cover or storage box to look exactly like the one photographed please contact me prior to purchasing.
POLICIES – Please Read Before Ordering 
We are required to collect Indiana (7%) State Sales Tax for merchandise purchased by Indiana residents. 
Customer service is available Monday-Friday to answer your questions. 
Call us at 219-261-2212.  Depending on the volume of emails and messages, it may take up to 1 full business day before we are able to respond to them.
Messages sent on weekends or holidays may require up to 2 additional business days for a response.
Orders are shipped within 24 hours (1 business day) of receipt of payment. Orders received on weekends & holidays may require additional shipping time.
DIDN'T RECEIVE CORRECT ITEM: If you have received the wrong item, please contact us prior to leaving feedback or attempting to return. We will always make your order right. If the item needs to be returned back to us due to our mistake, we will pay all return postage to return the item back to us. When contacting us please provide full item number of the wrong item you received to speed up the re-order process.
Pictures may also be required to process returns
DEFECTIVE ITEMS: If you have a item that is defective, please contact us for instructions on returning. Defective claims can only be made up to 14 days after receipt of your order. Photos of the item's defects are required.  If we determine the item has been abused, mishandled or altered a refund will not be issued.
DAMAGED ITEM RECEIVED: If you received an item that was damaged in shipping you must be able to provide us pictures of the damaged item and packaging. If this information cannot be provided then claim cannot be processed. You must contact us within 3 business days for damage claims. Once we are contacted and have proper proof of damage we will replace or refund the item.
Note:  Return shipping fees will be covered if the item is wrong, defective, or damaged.
RETURNS
Item must be returned with original packaging, manuals, and accessories in unused condition. Buyer is responsible for all shipping costs.
HOW TO RETURN AN ITEM: YOU MUST CONTACT US FIRST. Call us at 219-261-2212 or message us through to obtain authorization before shipping your item back. Then send your item back to us with a copy of the original order in order to receive proper refund of the item's cost.
Customers are responsible for all return shipping costs. Once the item is received and processed at our warehouse we will issue a refund for the merchandise amount as stated in above return policies. Please allow up to 7 business days for your return to be processed once it is received in our warehouse.